These are the porcelain dental systems with improved aesthetic quality and durability.
The ceramic structure is supported by a strong infrastructure, and procedures are applied to strengthen the entire structure of the porcelain.
Many things affect the appearance of the crowns, but most importantly, their reaction to light. Natural teeth transmit the light.
As a result, depth and vividness emerges in Full Porcelain Crown teeth. Lack of metals (full porcelain) in the porcelain infrastructure increases the light transmittance. This provides results closest to natural teeth aesthetically. For this reason, full porcelains are preferred especially for the front teeth. If we put the disadvantages of metal porcelains over full porcelain, metal-assisted porcelains display a dark-colored space as if not in the mouth in some lights (disco, camera flashing, etc.). Whereas full porcelains transmit all sorts of light, just like natural teeth.
Full porcelains provide a very similar aesthetic to the natural tooth structure as they transmit the light, and for this reason, full porcelains are preferred especially for the front teeth. Metal-assisted porcelains reflect a dull and artificial appearance of metal and white-colored covering material applied on metal, creating aesthetic problems.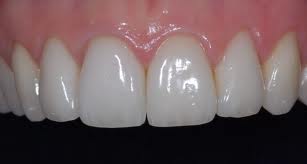 Since there is no metal in its infrastructure, there is no dark line at the crown-gum level. A more aesthetic look is ensured. When gum recesses, full porcelains maintain their aesthetic appearance, while metal porcelain causes a bad look in the area where they combine with tooth.
There is no risk of allergy in full porcelains against certain metals used in the infrastructure (nickel, etc.).
In metal-free crowns, a dark line can be formed in the region at the gum level with the reflection of the metal.
This is particularly evident in tooth extraction in a few years. This does not occur and is clearer because the color difference does not differ in metal supports.
Metal-assisted porcelains are mechanically attached to teeth. Whereas full porcelains are attached to the teeth mechanically and chemically. Therefore, they are much more conservative than metal-assisted versions.
There may be a risk of allergies to metals used in metal-assisted versions. This risk does not exist in non-metal-assisted versions.
Non-metal-assisted porcelains with zirconium alloy do not transmit heat, and heat sensitivity does not occur as in metal-assisted versions.
Its cost is a disadvantage. Although costs are reduced, they are often not preferred because they are more costly than metal-assisted versions.
Furthermore, the oral planning of your dentist may not allow for bridges without metal support.
Your dentist should evaluate these.